Easy Pie Recipes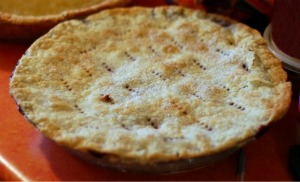 With these easy pie recipes, you can make many different delectable pies at home with less effort than seems possible. If something is easy as pie, it is very easy indeed.
According to food historians, the filling and baking of pies dates back to ancient times. The Oxford English Dictionary traces the first use of the word "pie" as it relates to food to 1303, noting the word was well-known and popular by 1362.
A favorite dish of the English, pies were made by early settlers in America. Enduring harsh and primitive conditions, the first colonists baked simple savory pies that used less flour than bread and did not require an oven for baking. Flaky pastry fruit-filled pies appeared in the early 19th century. Today there is such a wide variety of pie recipies, from fruit pies to custard and cream pies, to nut pies and even frozen pies.
While pies vary to some extent according to the country or even to region, more than any other dessert, pies are typically American. Pies are so well-liked, an unofficial National Pie Day is celebrated on July 12th.
Making these quick easy dessert recipes requires very little equipment. With the wide variety and convenience of good refrigerated and crumb pie crusts, a spoon and a mixing bowl is all you need to have a pie baking in the oven in minutes. Two knives to cut in butter or shortening, a rolling pin and a pie plate are all that you need for a flaky homemade pastry pie crust. For fast easy recipes, a tasty homemade crumb crust doesn't require any rolling – just mix and pat it into the pie pan.
Get your taste buds tingling with one of these easy pie recipes.
Bisquick Impossible Pie Recipes

Southern Sweet Potato Pie Recipe

You may also want to check out Just Easy Recipes for their apple and cheese torte.
Return from Easy Pie Recipes to Easy Baking Recipes