Easy Brownies Recipes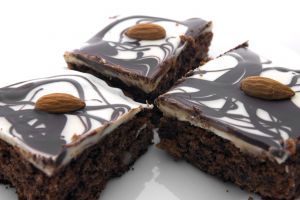 Anyone can make these easy brownies recipes.
Learn how to make brownies with step-by-step instructions using simple ingredients.
An American favorite since the early 1900's, the first chocolate brownie recipe was published by Fannie Farmer in 1905. Still popular today, brownies are served for snacks and desserts. Whether frosted or plain, with or without nuts, everyone has a favorite.
Not only do flavors vary, so do textures. Some brownies are cake-like while others are chewy or more fudge like.
A good basic brownie recipe can be varied by adding or substituting just one ingredient. Adding flavored chips, candy bar pieces, nuts and even coffee will create a different flavored brownie.
The most familiar plain chocolate easy brownie recipe is here, along with many scrumptious variations.
Basic Chocolate Brownie Recipe

Return from Easy Brownies to Home