Easy Applesauce Brownies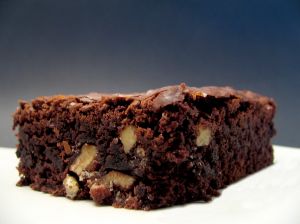 Applesauce brownies take only minutes to mix.
Using applesauce instead of oil or butter makes this moist brownie recipe a healthier choice.
An easy brownie recipe, these cake mix brownies are cake-like and full of chocolate and nutty flavors. Clean up is a breeze for this one bowl recipe.
Ingredients

1 box (18.25 ounces) chocolate cake mix
2 eggs
1/3 cup applesauce
1/4 cup water
1 package (6 ounces) semi-sweet chocolate chips
1 cup pecans or walnuts, chopped
Preparation

1. Preheat oven to 350 degrees F. Grease an 8-inch square pan.
2. In a large bowl, mix cake mix, eggs, applesauce and water until blended. Stir in chocolate chips and nuts. Pour batter into baking pan and smooth the top.
3. Bake for 30 to 35 minutes or until a toothpick inserted into the center comes out clean. Remove from oven and let cool. Cut and serve. Store any leftover brownies in an airtight container.
Return to Easy Brownies
Return from Applesauce Brownies to Home