Easy Coffee Cake Recipes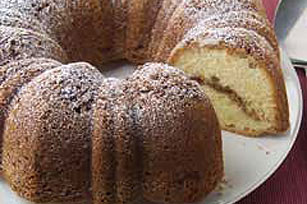 A collection of easy coffee cake recipes that you can have baking in your oven in 15 minutes or less.
Learn how to make coffee cake with easy step-by-step directions. These easy recipes are made with basic ingredients that you probably have in your pantry. Taking only minutes to prepare, you can have a delicious coffee cake baking in the oven in no time.
These sweet treats have been associated with steaming cups of coffee or tea for centuries. Not just for breakfast, coffee cake can be served to your family and friends at brunch, lunch, for snacks or dessert.
Budget friendly, you can make these baked goods at home for a fraction of the price charged at bakeries and grocery stores.
Coffee cakes are easy to bake and freeze for later. When the coffee cake is completely cooled, wrap it in two layers of plastic wrap and a layer of foil and freeze. You can even cut slices, wrap each slice with plastic wrap, put them in a freezer bag and freeze. Take the slices out as needed and thaw.
Topped with a confectioner's sugar glaze or a streusel topping, these easy to make coffee cakes are delicious home baked treats.
Whether you are looking for a classic cinnamon, fruit or cake mix recipe, you will find the easiest and best coffee cake recipes here at your fingertips.
Blueberry Streusel Coffee Cake Recipe

Recipe for Rhubarb Coffee Cake

Return from Easy Coffee Cake Recipes to Easy Baking Recipes Home