Classic Cinnamon Coffee Cake Recipe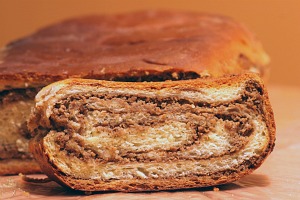 This Cinnamon Coffee Cake recipe makes a classic breakfast coffee cake.
A moist sour cream coffee cake infused with cinnamon and brown sugar, it is especially tasty with raisins and nuts added. Top it with a drizzle of powdered sugar glaze for a little extra sweetness.
Paired with a cup of coffee or tea, this cinnamon coffee cake is a treat for breakfast or afternoon snack.
This easy coffee cake recipe makes two loaves. Have one now and freeze the other to enjoy later.
Cinnamon Coffee Cake Recipe

Ingredients

2-1/2 cups all purpose flour
2-1/2 teaspoons baking powder
1 cup (2 sticks) butter, at room temperature
1 cup granulated sugar
3 eggs, at room temperature
1 teaspoon vanilla extract
1 cup (8 ounces) sour cream
1/2 cup firmly packed light brown sugar
2 teaspoons cinnamon
1/2 cup coarsely chopped raisins, optional
1/2 cup coarsely chopped pecans or walnuts, optional
Powdered Sugar Glaze

1/2 cup powdered sugar, sifted
1 tablespoon milk
1/8 teaspoon vanilla
Preparation

1. Preheat oven to 350 degrees. Grease and flour two 9 x 5 x 3-inch loaf pans.
2. In a medium bowl, sift flour with baking powder and set aside.
3. In a small bowl, combine brown sugar and cinnamon and set aside.
4. In a large bowl, with mixer on medium speed, cream butter and granulated sugar until light. Beat in eggs, one at a time. Stir in vanilla. Add flour, a little at a time, alternately with the sour cream, beginning and ending with flour. Stir in raisins and nuts, if desired.
5. Spoon half of the batter equally into the two loaf pans and sprinkle tops with half the brown sugar mixture. Spoon the remaining batter equally into the pans and sprinkle the tops with the remaining brown sugar mixture.
6. Bake for 55 minutes to 1 hour or until loaves pull slightly from sides of pan and a toothpick inserted into the center comes out clean. Remove from oven and cool in pans on a wire rack. When pans are cool enough to handle, remove coffee cakes from pans and continue to let cool.
7. Prepare powdered sugar glaze. In a small bowl, mix powdered sugar, milk and vanilla together until smooth. If glaze is too thick, add a little more milk until thin enough to drizzle. Drizzle glaze over warm coffee cake. Serve warm or at room temperature.
To freeze, tightly wrap completely cooled coffee cake in two layers of plastic wrap. Cover with one layer of aluminum foil. Freeze for up to 3 months. When ready to use, let thaw in refrigerator.
Return to Easy Coffee Cake Recipes
Return from Cinnamon Coffee Cake Recipe to Home