Cardamom Coffee Cake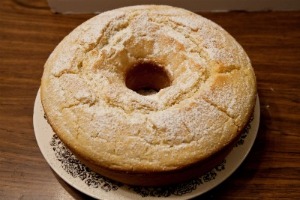 Cardamom Coffee Cake is an extremely flavorful and easy coffee cake to make.
An intensely aromatic coffee cake, it will fill your house with wonderful smells while baking.
I was not familiar with cardamom until I met my husband, a Norwegian. A member of the ginger family, cardamom is an ancient spice native to India. Vikings came upon cardamom about a thousand years ago and introduced it into Scandinavia, where it remains a popular baking spice. Although a little more expensive than most common spices, ground cardamom is widely available today.
If you are looking for a special quick coffee cake recipe, try this moist buttery Cardamom Coffee Cake.
Ingredients

2 cups all purpose flour
2-1/2 teaspoons ground cardamom
1-1/2 teaspoons baking soda
1/4 teaspoon salt
1 cup (2 sticks) unsalted butter, at room temperature
1-1/2 cups granulated sugar
3 eggs, at room temperature
1 teaspoon vanilla extract
1 carton (8 ounces) sour cream
Powdered sugar
Preparation

1. Preheat oven to 350 degrees F. Generously grease a 10-inch Bundt or tube pan.
2. In a medium bowl, combine flour, cardamom, baking soda and salt. Set aside.
3. In a large bowl, with mixer on medium speed, cream butter and sugar together until fluffy. Add eggs, one at a time, beating after each addition and scraping sides of bowl. Add vanilla extract and combine. Add flour mixture and sour cream alternately, beginning and ending with flour. Mix just until incorporated. Pour batter into Bundt pan and smooth the top.
4. Bake for 40 to 45 minutes or until a toothpick inserted into the center comes out clean. Remove from oven and place on a wire rack. When the pan is cool enough to handle, remove the coffee cake from the pan and continue to cool on wire rack. Dust with powdered sugar before serving.
Return to Easy Coffee Cake Recipes
Return from Cardamom Coffee Cake to Home