Soft Oatmeal Raisin Cookies Recipe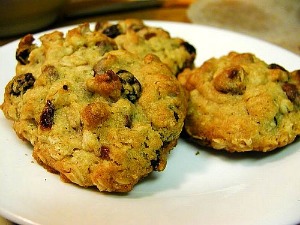 This soft oatmeal raisin cookies recipe uses simple ingredients that you probably have in your pantry.
The combination of oatmeal and raisins makes this cookie a healthier choice of sweets.
Brown sugar in this old fashioned oatmeal cookie recipe keeps the cookies soft and moist, while giving them a subtle taste of molasses.
A recipe for oatmeal cookies loaded with raisins, these drop cookies are a classic.
Yield: 3-1/2 dozen

Ingredients

1 cup all purpose flour
2 teaspoons baking powder
1/2 teaspoon salt
1/2 teaspoon ground cinnamon
1/2 teaspoon ground nutmeg
1/2 cup (1 stick) butter or margarine, at room temperature
1 cup firmly packed light brown sugar
1-1/2 cups oatmeal, uncooked
2 eggs, slightly beaten
1 teaspoon vanilla extract
1 cup seedless raisins
Preparation

1. Preheat oven to 350 degrees. Lightly grease cookie baking sheet(s).
2. Sift flour with baking powder, salt, cinnamon and nutmeg. Set aside.
3. In a large bowl, stir butter and sugar together until just mixed. Blend in flour mixture, oats, eggs and vanilla. Stir in raisins. Drop by rounded teaspoonfuls 2 inches apart on baking sheet(s).
4. Bake 12 to 15 minutes until lightly browned and tops spring back when touched. Remove from oven and place cookies in a single layer on wire racks to cool. Store cooled cookies in an airtight container.
Return to Easy to make Cookies
Return from Soft Oatmeal Raisin Cookies Recipe to Home