Pumpkin Swirl Cheesecake Recipe
a perfect fall dessert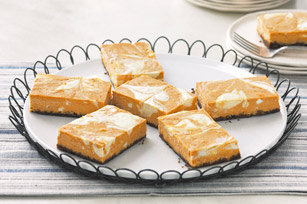 This Pumpkin Swirl Cheesecake recipe makes a perfect fall dessert. Not only does this creamy cheesecake taste delicious, it looks delicious.
No springform pan? No problem. This pumpkin cheese cake recipe is baked in a 13 x 9-inch baking pan.
To make removing the cheesecake and clean up easy, line the baking pan with foil, with ends of foil extending over sides. Use foil handles to lift chilled pumkin cheesecake from pan before cutting to serve.
Ingredients
Crust:
1-1/2 cups (about 25) ginger snaps, finely crushed
1/2 cup finely chopped pecans
1/4 cup (1/2 stick) butter, melted
Filling:
4 packages (8 ounces each) cream cheese, at room temperature
1 cup granulated sugar, divided
1 teaspoon vanilla extract
4 eggs, at room temperature
1 cup canned pumpkin
1 teaspoon pumpkin pie spice
Whipped cream, optional
Preparation

Preheat oven to 325 degrees F. Line a 13 x 9-inch baking pan with foil with ends of foil extending over sides.
Combine ginger snap crumbs, pecans and melted butter, mixing well. Firmly press into bottom of a 13 x 9-inch baking pan.
In a large bowl, with mixer on high speed, beat cream cheese, 3/4 cup sugar and vanilla until well blended. Add eggs, one at a time, beating after each addition just until blended.
Remove 1-1/2 cups batter, set it aside. Stir 1/4 cup sugar and pumpkin pie spice into remaining batter in bowl.
Spoon half of the pumpkin batter into crust. Top with spoonfuls of half the reserved plain batter. Repeat layers. Gently swirl batter with a knife.
Bake for 45 minutes or until the center is almost set. Remove from oven and cool to room temperature. Refrigerate for at least 4 hours.
To serve, cut into squares and top with a dollop of whipped cream, if desired.
Note: To bake pumpkin swirl cheesecake in 9-inch springform pan instead, prepare as directed increasing the bake time to 55 minutes to 1 hour 5 min or until center is almost set.
Return to Easy Cheesecake Recipes
Return from Pumpkin Swirl Cheesecake Recipe to Home