Pumpkin Chocolate Chip Cookie Recipe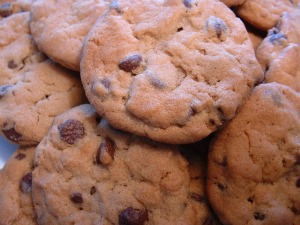 This Pumpkin Chocolate Chip Cookie recipe will fill the bill if you are looking for delicious fall treats.
These easy to make cookies are soft, chewy and full of flavor.
In this homemade cookie recipe, cinnamon and nutmeg enhance the pumpkin while the chocolate is just plain good.
Not only will your house be filled with wonderful aromas, your cookie jar will be filled in no time at all.
Yield: 4 dozen

Ingredients

2 cups all purpose flour
1 teaspoon baking soda
1/4 teaspoon salt
1 teaspoon ground cinnamon
1/4 teaspoon ground nutmeg
1/2 cup (1 stick) butter or margarine, at room temperature
1 cup brown sugar
1 teaspoon vanilla extract
1 cup canned pumpkin
1 package (6 ounces) semisweet chocolate chips
Preparation

1. Preheat oven to 375 degrees F. Lightly grease cookie baking sheet(s) or line with parchment paper.
2. Sift flour with baking soda, salt, cinnamon and nutmeg. Set aside.
3. In a large bowl, cream butter with sugar until light. Add vanilla and pumpkin and mix well. Slowly add flour mixture and continue to mix until blended. Stir in chocolate chips. Drop by rounded teaspoonfuls 2 inches apart on baking sheet.
4. Bake for 12 to 15 minutes until lightly browned. Remove from oven and place in a single layer on wire racks to cool.
Return to Easy to make Cookies
Return from Pumpkin Chocolate Chip Cookie Recipe to Home