Pineapple Upside Down Cake Recipe
old-fashioned goodness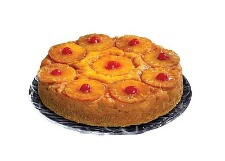 This Pineapple Upside Down Cake recipe makes a cake with a nutty brown sugar topping and old-fashioned goodness that will bring a smile to your face.
My Mom made this easy homemade cake recipe in her cast iron skillet for almost every family gathering.
A sweet and delicious pineapple dessert, it is sure to please your family and friends.
Ingredients

1 can (15-1/4 ounces) pineapple slices with juice
1/4 cup butter or margarine
1 cup firmly packed brown sugar
1/2 cup chopped pecans, optional
6 – 8 maraschino cherries
1 cup all purpose flour
1 teaspoon baking powder
1/4 teaspoon salt
2 eggs, at room temperature
3/4 cup granulated sugar
1 teaspoon vanilla extract
Whipped cream, optional
Preparation

1. Preheat oven to 350 degrees F.
2. Drain pineapple, reserving 1/2 cup pineapple juice. Set aside.
3. In a heavy 9-inch skillet (with ovenproof handle) or in a 9 x 9 x 2-inch baking pan, melt butter over low heat. Remove from heat and add brown sugar and pecans, if using. Stir well. Arrange pineapple slices in a single layer over brown sugar mixture. Fill center holes with cherries. Set skillet aside while making cake.
4. Sift flour, baking powder and salt together. Set aside.
5. In a large bowl, with mixer on medium speed, beat eggs, sugar and vanilla together until well blended. Fold in flour mixture. Stir in reserved 1/2 cup pineapple juice. Pour batter evenly over pineapple slices.
6. Bake for 40 to 45 minutes until cake is golden brown and pulls from sides of pan. Remove cake from oven and cool in pan for 30 minutes. Loosen edges of cake and carefully invert onto heatproof serving plate, leaving pan over cake 1 – 2 minutes. Remove pan. Serve warm or cold with whipped cream (optional).
Return to Easy Cake Recipes
Return From Pineapple Upside Down Cake Recipe to Home