Pecan Caramel Cheesecake Recipe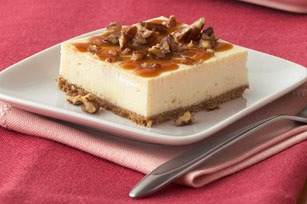 This Pecan Caramel Cheesecake Recipe is a simple cheesecake recipe that doesn't require a springform pan.
Try making this for your next family gathering and prepare to receive compliments for this creamy caramel pecan cheesecake.
This easy cheese cake recipe can be made a day or two ahead.
Ingredients

1-1/2 cups (about 33) vanilla wafers, finely crushed
1/2 cup finely chopped pecans
1/4 cup (1/2 stick) butter, melted
4 packages (8 ounces each) cream cheese, at room temperature
1 cup granulated sugar
1 cup sour cream
3 tablespoons all purpose flour
1 tablespoon vanilla extract
4 eggs, at room temperature
Topping:

1/4 cup caramel ice cream topping
1/2 cup pecans, coarsely chopped
Preparation

1. Preheat oven to 325 degrees F.
2. Mix vanilla wafer crumbs, 1/2 cup pecans and butter. Firmly press into bottom of 13 x 9-inch baking pan. Refrigerate until ready to use.
3. In a large bowl, with mixer on medium speed, beat cream cheese and sugar until blended.
4. Add sour cream, flour and vanilla, mixing well.
5. Add eggs, one at a time, mixing on low speed after each addition just until blended. Pour cheesecake mixture over crust.
6. Bake for 45 minutes or until center is almost set. Remove from oven and place on a wire rack to cool. When cheesecake is room temperature, refrigerate for at least 4 hours.
7. Before serving, drizzle with caramel topping and top with 1/2 cup of pecans. Let stand until topping is firm. Cut and serve.
Return to Easy Cheesecake Recipes
Return from Pecan Caramel Cheesecake Recipe to Home