Easy Pumpkin Cheesecake
mixed in a blender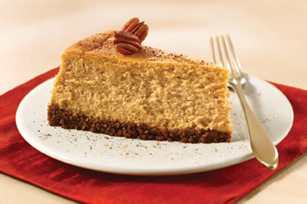 You will not believe how easy pumpkin cheesecake is to make with this easy recipe.
A crustless pumpkin cheesecake pie, all the ingredients are mixed in a blender.
An alternative to traditional pumpkin pie, this creamy pumkin cheesecake is a perfect dessert for fall.
Ingredients

1 can (15 ounces) pumpkin (not pumpkin pie mix)
1 package (8 ounces) cream cheese, cut into pieces, at room temperature
1/4 teaspoon vanilla extract
3 eggs, at room temperature
3/4 cup granulated sugar
1/2 cup Bisquick baking mix
1-1/2 teaspoons pumpkin pie spice
Whipped cream
Pecan halves, optional
Preparation

1. Heat oven to 350 degrees F. Spray a 9-inch glass pie plate with cooking spray.
2. Combine pumpkin, cream cheese, vanilla, eggs, sugar, baking mix and pumpkin pie spice in blender. Cover and blend on high speed about 2 minutes or until smooth. (Or beat in medium bowl with hand mixer for 2 minutes.) Pour into pie plate.
3. Bake for 40 to 45 minutes or just until puffed and center is set (do not over bake). Remove from oven and cool completely, about 1 hour. Refrigerate at least 3 hours until chilled. Garnish with pecan halves, if desired. Serve with a dollop of whipped cream. Store covered in refrigerator.
Return to Easy Cheesecake Recipes
Return from Easy Pumpkin Cheesecake to Home