Easy Carrot Cake Recipe
a delicious moist old-fashioned cake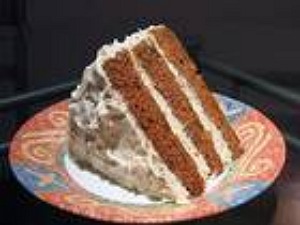 This easy carrot cake recipe makes a delicious moist old-fashioned cake.
A three layer cake with cream cheese frosting, this homemade cake recipe is good for any occasion.
An easy cake recipe to make, using a food processor to grate the carrots will speed up the process. If you want to make this easy carrot cake recipe even easier, use fresh shredded carrots from the produce section or salad bar section of your local grocery.
Ingredients

1 pound carrots
4 eggs, at room temperature
2 cups all purpose flour
1 teaspoon baking powder
2 teaspoons baking soda
1/2 teaspoon salt
2 cups granulated sugar
1 teaspoon ground cinnamon
1-1/4 cups vegetable oil
1 teaspoon vanilla extract
Cream Cheese Frosting

1 (8 ounce) package cream cheese, at room temperature
1/2 cup (1 stick) butter or margarine, at room temperature
1 (16 ounce) package powdered sugar, sifted
1 teaspoon vanilla extract
Preparation

1. Preheat oven to 350 degrees F. Grease and flour three 9-inch round cake pans.
2. Grate carrots (you should have about 3 cups total grated). Set aside.
3. Break eggs into a small bowl and beat well. Set aside.
4. In a large bowl, combine carrots, flour, baking powder, baking soda, salt, sugar and cinnamon. Stir in eggs, oil and vanilla, mixing well.
5. Pour batter equally into the cake pans. Tap each pan gently on counter to level batter and release air bubbles.
6. Bake for 30 minutes or until a toothpick inserted in center comes out clean. Cool in pans on wire racks for 10 minutes. Remove cakes from pans and let cool completely on wire racks.
7. Prepare Cream Cheese Frosting. In a large bowl, with mixer set on medium speed, combine cream cheese and butter, beating until smooth. Slowly add powdered sugar and beat until light and fluffy. Stir in vanilla extract.
8. Spread Cream Cheese Frosting between layers and on top and sides of cake.
Return to Easy Cake Recipes
Return from Easy Carrot Cake Recipe to Home