Coca Cola Cake
a Southern creation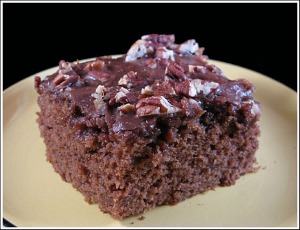 Have a blast from the past with this Coca Cola cake.
This gooey rich chocolate cake recipe is a Southern creation that was especially popular in the 50's and 60's.
Coca Cola was invented in May 1886. Dr. John Stith Pemberton, a pharmacist, is credited with making the syrup which he took to a pharmacy in Atlanta, Georgia. Carbonated water was added and the resulting mixture was sold for five cents a glass.
Over the years, this popular soft drink has been used in many recipes from barbecue sauce to desserts. The most popular homemade cake recipe is for this sweet moist cake.
If you don't have buttermilk, try this simple substitution. Place one tablespoon of lemon juice or white vinegar in a measuring cup. Fill the measuring cup with milk to equal 1 cup. Let the mixture stand for 5 minutes then use it in any cake recipe that calls for buttermilk.
Coca Cola Cake Recipe

Ingredients

2 cups all purpose flour
1 teaspoon baking soda
2 cups granulated sugar
1 cup coca cola
1 cup (2 sticks) butter, at room temperature
2 tablespoons unsweetened cocoa powder
1/2 cup buttermilk
2 eggs, beaten
1 teaspoon vanilla extract
1-1/2 cups miniature marshmallows
1/2 cup pecans, chopped
Cola Frosting
1/2 cup (1 stick) butter, at room temperature
1/4 cup coca cola
3 tablespoons unsweetened cocoa powder
3 cups powdered sugar, sifted
1 teaspoon vanilla extract
Preparation

1. Preheat oven to 350 degrees F. Grease and flour a 13 x 9 x 2-inch pan.
2. In a large bowl, combine flour, baking soda and sugar. Stir well and set aside.
3. Combine coca cola, butter and cocoa in a heavy saucepan. Bring to a boil, stirring constantly. Remove from heat and carefully and gradually, stir into the flour mixture. Stir in buttermilk, eggs, vanilla and marshmallows, mixing well. Pour batter into pan.
4. Bake for 30 – 35 minutes or until a toothpick inserted into center comes out clean.
5. While cake is baking, prepare the frosting. In a heavy sauce pan, combine butter, cola and cocoa. Bring to a boil, stirring constantly. Remove from heat. Stir in powdered sugar and vanilla.
6. Spread hot Cola Frosting over hot cake. Sprinkle with pecans. Let cool. Cut into squares and serve.
Return to Easy Cake Recipes
Return from Coca Cola Cake to Easy Baking Recipes