Homemade Carrot Cupcake Recipe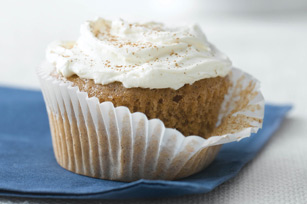 Make moist, sweet cupcakes with this carrot cupcake recipe.
Served plain or with a cream cheese frosting, these carrot cake cupcakes are sure to satisfy your sweet tooth. They are delicious for a snack or for an ending to any meal.
To make this easy cupcake recipe even easier, use a food processor to grate the carrots.
Not only do these carrot cupcakes taste good, carrots are good for you. To find out more about the nutritional value of carrots, click here.
4 tier tower.
Not just for cupcakes, this versatile tower can be used for serving a variety of desserts as well as fruits.
Yield: 3 dozen

Ingredients

3 cups grated carrots (about 1 pound)
2 cups all purpose flour
1 teaspoon baking powder
2 teaspoons baking soda
1/2 teaspoon salt
2 cups granulated sugar
1 teaspoon ground cinnamon
4 eggs, well beaten
1-1/4 cups vegetable oil
1 teaspoon vanilla extract
Cream Cheese Frosting
1 package (8 ounces) cream cheese, at room temperature
1/2 cup (1 stick) butter or margarine, at room temperature
1 package (16 ounces) powdered sugar, sifted
1 teaspoon vanilla extract
Preparation

1. Preheat oven to 350 degrees. Grease and flour muffin pans or line muffin pans with paper baking cups.
2. In a large bowl, combine carrots, flour, baking powder, baking soda, salt, sugar and cinnamon. Stir in eggs, oil and vanilla mixing well.
3. Spoon batter into cupcake holders, filling each cup half full.
4. Bake for 20 minutes or until a toothpick inserted into the center of a cupcake comes out clean. Remove cupcakes from pans and let cool completely on wire racks.
5. To prepare cream cheese frosting, with mixer on medium speed, beat cream cheese and butter until smooth. Add powdered sugar and vanilla and beat until light and fluffy.
6. Spread about 2 to 3 tablespoons of cream cheese frosting on top of each cooled cupcake.
Return to How to make Cupcakes
Return from Carrot Cupcake Recipe to Easy Baking Recipes