Butter Pound Cake Recipe
classic pound cake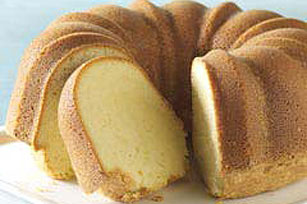 This Butter Pound Cake Recipe makes a truly old-fashioned classic pound cake that is moist and delicious.
Pound cake gets its' name from the original recipe, a pound each of butter, sugar, eggs and flour.
An easy cake recipe to make, it does take longer than most cakes to bake due to the low baking temperature.
While buttery and delicious by itself, you can make many versatile desserts with this homemade cake recipe. Serve it plain or toasted with a topping of fresh fruit, ice cream, whipped cream, chocolate or fruit syrup, glaze or dessert sauce.
Ingredients

1 pound (4 sticks) butter, at room temperature
3 cups granulated sugar
6 eggs, at room temperature
4 cups all purpose flour
3/4 cup milk
1 teaspoon almond extract
1 teaspoon vanilla extract
Preparation

1. Preheat oven to 300 degrees F. Grease and flour a 10-inch bundt pan
or tube pan.
2. In a large bowl, with mixer set on medium speed, cream butter. Gradually add sugar, beating until light and fluffy. Add eggs, one at a time, beating after each addition. Add flour to creamed mixture alternately with milk, beginning and ending with flour. Mix well after each addition, scraping down bowl occasionally. Stir in almond and vanilla extracts.
3. Pour into bundt pan
and bake for 1 hour and 40 minutes or until a toothpick inserted into center comes out clean. Remove from oven and place on a wire rack. When pan is cool enough to handle, remove the cake from the pan and continue cooling on wire rack.
Return to Easy Cake Recipes
Return from Butter Pound Cake Recipe to Home