Brownie Cheesecake Recipe
full of chocolate flavor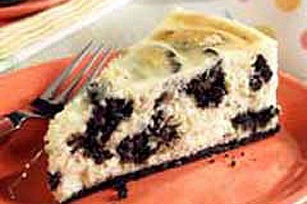 If you love brownies and cheesecake, this Brownie Cheesecake Recipe is for you.
A delicious cheesecake, it is full of chocolate flavor from bottom to top. Beginning with a chocolate crust, this baked cheesecake recipe has chocolate and brownie chunks in the filling.
This easy cheese cake recipe is a perfect use for leftover brownies.
Brownie Cheesecake Recipe

Ingredients
Crust

1 cup chocolate wafer crumbs
3 tablespoons butter, melted
Filling
1 (12 ounce) package semi-sweet chocolate chips
3 packages (8 ounces each) cream cheese, at room temperature
1 cup granulated sugar
3 eggs, at room temperature
1 carton (8 ounces) sour cream
1 teaspoon vanilla extract
1/8 teaspoon salt
1-1/2 cups prepared brownies, cut into 1-inch cubes
Whipped cream for garnish, if desired
Preparation

Preheat oven to 350 degrees F.
Combine wafer crumbs and butter, stirring well. Firmly press crumb mixture evenly on bottom of a 9-inch spring form pan. Set aside.
Place chocolate chips in microwave safe bowl. Microwave chocolate chips for 30 seconds at a time, stirring each time, until chips are melted. Remove from microwave and set aside.
In a large bowl, with mixer set on medium speed, beat cream cheese until light and fluffy. Gradually add sugar, beating well. Add eggs, one at a time, beating well after each addition. Add sour cream, vanilla and salt, mixing well. Add melted chocolate and mix well. Fold in brownie cubes. Pour batter into spring form pan.
Bake for 55 to 60 minutes or until cheesecake is set. Remove from oven and place on a wire rack. Let cool to room temperature and then refrigerate for at least 8 hours.
To serve, carefully remove sides of spring form pan. Cut slices and garnish with whipped cream, if desired.
Return to Easy Cheesecake Recipes
Return from Brownie Cheesecake Recipe to Home