Best Moist Chocolate Cake Recipe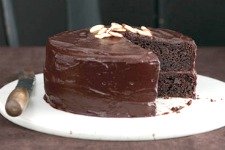 The combination of butter, buttermilk and sour cream makes this the best moist chocolate cake recipe.
A homemade cake recipe with chocolate fudge frosting, it is a chocolate lover's dream.
A scrumptious cake to serve at any time, it is especially good for a Vanlentine's Day dessert. This easy chocolate cake recipe is even better when served with a scoop of ice cream or a dollop of whipped cream.
If you don't have buttermilk on hand, try this simple substitution. Place one tablespoon of lemon juice or white vinegar in an empty measuring cup. Fill with milk to 1 cup. Let stand for 5 minutes then use in any cake recipe that calls for buttermilk.
Best Moist Chocolate Cake Recipe

Ingredients

2 cups all purpose flour
2/3 cup unsweetened cocoa
2 teaspoons baking soda
1/4 teaspoon salt
1 1/2 cups granulated sugar
3/4 cup (1-1/2 sticks) butter, at room temperature
1 egg
1 teaspoon vanilla extract
1 cup buttermilk
3/4 cup sour cream
Chocolate Fudge Frosting

2 cups granulated sugar
1/2 cup unsweetened cocoa
1/2 cup (1 stick) butter or margarine, at room temperature
1/2 cup milk
1-1/2 teaspoons vanilla extract
Ice cream or whipped cream, optional
Preparation

1. Preheat oven to 350 degrees F. Grease and flour two 9-inch round cake pans.
2. Into a medium bowl, sift flour, cocoa, baking soda and salt. Set aside.
3. In a large bowl, with mixer set on medium speed, beat sugar and butter until light and fluffy. Beat in egg and vanilla until blended.
4. Add flour mixture to butter mixture alternately with buttermilk and sour cream, beginning and ending with flour mixture. Beat well after each addition, scraping bowl occasionally. Divide batter evenly between prepared pans. Gently tap the pans on the counter to break any large air bubbles.
5. Bake for 30 to 35 minutes or until wooden toothpick inserted into centers comes out clean. Cool in pans 10 minutes. Remove from pans to wire racks and cool completely.
6. Prepare Chocolate Fudge Frosting. Place sugar, cocoa, butter and milk in a heavy saucepan and let come to a boil slowly. Let boil for 1 minute. Remove from heat, add vanilla extract and stir until cool enough to spread.
7. Spread chocolate fudge frosting between layers, on top and sides of cake. Slice and serve with ice cream or whipped cream, if desired.
Return to Easy Cake Recipes
Return from Best Moist Chocolate Cake Recipe to Home